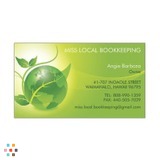 Angie B
Stay on track of your personal or business finances with MISS LOCAL BOOKKEEPING SERVICES.
Honolulu, Hawaii
15 years experience
Pay negotiable
Want to connect with Angie?
Accountant in Honolulu, Hawaii
Services

Accounting and Bookkeeping Services
Payroll Services
QuickBooks Set-up & Repair
Human Resources

Full-charge Bookkeeping services includes:
Enters daily accounting transactions – vendor bills, customer invoices, bill payments, customer payments and deposits, and other disbursements and withdrawals.
Maintains complete and up-to-date detailed Accounts Receivable, Accounts Payable and cash account ledgers and provides daily or weekly reports on these and other critical areas of business management.
Either processes payroll or makes the necessary entries to record payroll processed by a third-party provider. In either case, payroll entries will include complete recording of gross wages, employer tax and other payroll expenses, and payroll liabilities

Experienced Accounting Manager

Accounting and management professional with 10 years of experience performing and overseeing accounting functions using a variety of computer systems and tools. Play a key role in analyzing and improving profitability of various business units while identifying and correcting discrepancies and process deficiencies. Communicate effortlessly with adjacent departments, executives, customers, vendors, auditors/CPAs, and regulatory authorities. Demonstrated expertise on a number of software platforms.

Qualifications

Oversee and perform all accounting functions and special projects to ensure the accuracy and ethical application of accounting operations for small business. Design and enforce the use of improved accounting practices, policies and procedures.
Supervise, provide direction for, and review activities of subordinate employees and outside professionals Participate in project meetings to oversee project financials and provide a key advocate for cost controls
Complete accounts payable and accounts receivable tasks including invoicing and check runs
Prepare journal entries, process transactions, and submit invoices to managers for approval
Process period closing entries, reports and tax filings; reconcile A/P, A/R and fixed asset accounts
Generate property and production/payroll reports as needed
Oversee year end fiscal audits; work with external auditors to ensure accurate and timely processes
Implement technology systems to generate greater accuracy, efficiency and productivity

Key Skills and Abilities

Departmental Leadership
Staff Supervision & Training
General Ledger Accounting
Cost Accounting
Fixed Asset Accounting
Inventory Costing
Financial Statements
GAAP Principles
Journal Entries
Accounts Payable / Receivable
Auditing & Reconciliations
Variance Analysis
Budgeting & Forecasting
Cash Management
Retail POS & Sales Commissions
Purchasing & Procurement
Human Resources & Payroll
Project Management

---
Experience
International Financial Reporting Standards
Want to connect with Angie?
---
Services
Modelling and business planning
---
Find Accountants in Honolulu, Hawaii
Want to connect with Angie?